With the world's best quality water on tap, Aussies appreciate the benefits of fresh water. Now with Naked Pools' fresh alternative to pool filtration, we're really changing the way we all look at our nation's favourite pastime. The health benefits are crystal clear:
No more red eyes or irritated skin, making it ideal for asthma or eczema sufferers
Huge reduction in chemicals means you can recycle the water direct to garden or storage tanks without dilution
Close enough to the natural balance of freshwater you could drink it, making it safer for pets
The features are endless:
TDS levels at record lows (800-1000ppm)
Slimline power pack for easy installation
Easy to use, multi-function digital display
Reverse polarity self cleaning cell
Unique custom designed snap-lock OXI & ION plugs
One button winter mode function
Designed and engineered by one of Australia's leading manufacturers
Adaptable to work with external automation solutions
Precise touch pad and time clock control
Variable OXI and ION control to suit any environment
Pump protection - auto cut off
Single button OXI Boost feature with variable running time
Electrodes constructed from highest grade titanium for longer life
One size unit suitable for pools up to 150,000 Litres
Suitable for concrete, fibreglass, vinyl and tiled pools
Internal temperature control reducing internal heat for longevity
Digital interface with simple navigation
Automatically customised to the size of your pool & spa
Intelligent backwash mode steps you through the process from start to finish
Versatile cell housing for horizontal or vertical orientation
Pulse Width Modulation for smooth and controlled output
Dual timer for both sanitisation and circulation of pool water
Retrofit any existing pool or spa
What equipment do I need to have a Freshwater Pool?
There are three major components required for a healthy freshwater pool.
– Fixed or Variable Speed Pump
– Sand, Glass or Cartridge Filter
– Water Sanitisation System
Naked Pools specialises in water sanitisation and supplies the Naked System along with a water copper test kit. For new pool installations, your pool builder usually supplies all three necessary components, and many across Australia are now embracing the Naked System due to customer demand, ease of use and water quality.
If you are upgrading an existing pool, contact us direct and we will put you in touch with a local installer or service tech.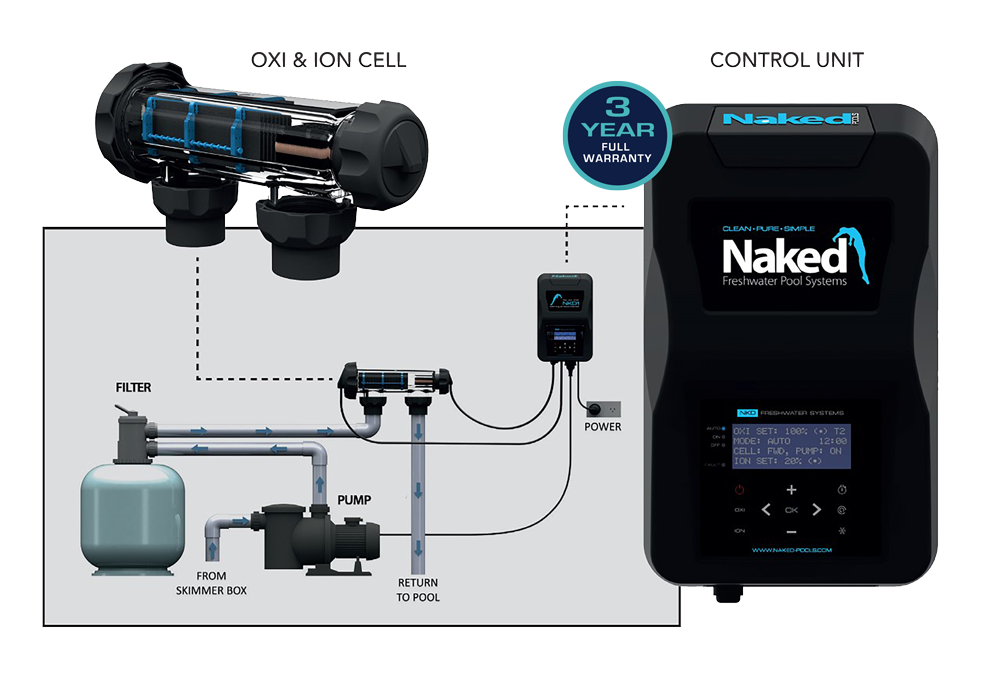 United States
Product and Consumables
Prices shown are in Australian Dollars
Naked Freshwater System
Everything you require for a complete fresh water swimming experience.
AU $3,650
(incl. GST)
Ioniser Rods
Replacement Ionisor Rod Set with lead and connector plug.
AU $395
(incl. GST)
Oxidiser
Replacement Oxidiser Electrode with lead and connector plug.
AU $970
(incl. GST)
Copper Test Kit
LAMOTTE
Low Range Copper Test Kit.
AU $66
(incl. GST)
The Naked Fresh Water System utilises the NKD-2 Copper Mineral Anodes that are registered with the APVMA under Product Number 83498. Naked Pools Pty Ltd is a certified SPASA industry member. For all other certification enquiries, please feel free to contact us.
Enquiry
We'd love to hear from you. If you have any questions about Naked Freshwater Pools Systems, please contact us: